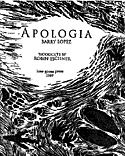 In the fall of 1989, Barry Lopez made a road trip from his home in western Oregon to South Bend, Indiana. A chronicle of that trip, entitled Apologia, appeared in Witness magazine and later in Harper's.

Shortly after this, Barry and I began discussing the idea of creating a fine press edition of this story. In 1990, I began carving a series of poplar woodblocks, each nearly
a foot square, ultimately completing twenty-three images which visually convey the journey described in the essay.
Apologia is a limited edition artist's book which hinges the woodblock prints into a continuous accordion-style presentation almost twenty-two feet long, with the words of the essay woven through the flow of images. Designed and organized by Charles Hobson, San Francisco, the edition has been printed letterpress on Stonehenge paper by Susan Acker at Feathered Serpent Press, Novato, California. The typefaces used are Poppl-Laudatio Regular and Trajan.

The woodblocks were editioned by Nora Pauwels at KALA Art Institute, Berkeley. John DeMerritt, Emeryville, California, hinged the pages and bound the book in boards covered with Lami Li handmade paper and sections of USGS topographic maps of Wyoming. Sandy Tilcock of lone goose press, Eugene, Oregon, has made clamshell boxes covered in black Canapetta fabric for the edition.

Enclosed in a folder on the back cover of each book is a unique tire-tread print made by Barry Lopez (with the assistance of Sandy Tilcock) on a segment of USGS topographic map of Wyoming. The prints were made by inking-up the tires of Barry's Toyota 4-Runner, the vehicle driven on the journey described in the essay. Each print is signed and numbered by the author, and each book is signed and numbered by Barry and by Robin.

Completed in the spring of 1997, the book was published by lone goose press, Eugene, Oregon in an edition of fifty copies (numbered 1-50) with sixteen additional copies (lettered A-P) reserved for the participants.

For additional information regarding Apologia, please contact:
Sandy Tilcock:
lone goose press
1166 West Second Avenue, Eugene, Oregon 97402
Telephone (541) 465-9079
lonegoosepress.com

Apologia was also published as a trade edition in 1998 by The University of Georgia Press, Athens and London.