Robin Eschner plays guitar and piano, is a singer/songwriter and award-winning composer of more than 60 choral and instrumental works that have been performed steadily through the years in Sonoma County, California (where she lives) and in the greater San Francisco Bay Area. She has also written numerous works for theater including a musical adaptation of Anton Chekhov's Uncle Vanya – A Song for Vanya – which she co-wrote with Bret Martin and John Shillington. She studied composition with Allaudin Mathieu, and at the San Francisco Conservatory of Music with Dusan Bogdanovic and David Garner.

For a list of choral and instrumental compositions click here.



The most troublesome fortune Robin has ever received.

Robin is a 2014 McKnight Visiting Composer with the American Composers Forum.
Her project proposal will take her to Minnesota for 60 days where she will follow the route traveled by John Beargrease, an Anishinabe man who used sled dogs to deliver mail during winter months from 1880 to 1900 between Duluth and Grand Marais. She'll be experiencing mushing firsthand and working to understand the culture and history of sled dog mushing in northern Minnesota as connected to JB's contributions, to the people who've settled there through the years, and as reflected in the spirit of The John Beargrease Sled Dog Marathon that takes place annually in January.
To follow Robin's Crazy Cold Beautiful blog, put on a parka and click here.

Robin plays a 1952 Martin 000-18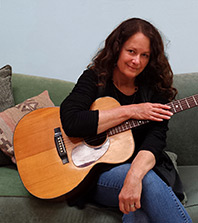 Robin is one half of TONE BENT, a duo in which she and her husband – guitarist, recording artist and composer Bill Horvitz – double-up on guitars and vocals, performing their original songs. Their first CD - "Say What You Will", has been described as "a roaring ride through the heartland of human experience. Built on earthy guitar parts that sometimes simmer with heat, these tracks are a collection of what is, what might have been, and what could be. Composed through lyrical compositions with a circular logic and a talent for storytelling, these tracks speak to the journey inside us all. Serious talent combines with musical passion in the new release by Tone Bent." (J. Edward Sumerau, Metro Spirit, Augusta, GA)


TONE BENT at the Post Office, Harmony, California

Robin is a composer, arranger and singer in the dynamic nine-member
Sonoma County-based ensemble TAKE JACK.


Take Jack at the Burbank Theater, Santa Rosa Junior College, California

What does Robin say about how painting affects her composing?
I think my years spent as a painter trying to really see something, to find a story there, have sharpened my ability to create lyrics that are visually accessible. This helps in creating an emotional musical experience that will ring true. I aim and hope for that, work toward it.
I'm a word person. I love crosswords and reading, the message found on a scrap of paper or written across an old photograph or dumpster, word puzzles, rhyme challenges, font choices, announcements broadcast over public address systems, poetry, talk radio. I'm curious about the evolution of language and the way there can suddenly be a whole "nother" word when that word didn't exist only months earlier. I'm drawn to texts that are extracted from overheard conversations, from messages spoken when we're placed on hold… the words of our everyday lives. I listen for the percussion behind words, the rhythm and the hum. These things have informed particular choral works such as my settings of: a recipe for Figgy Pudding - "Figgy Pudding", the instruction manual on how to assemble a tricycle - "Easy To Assemble" and the Oakland CA Airport Security Loop, Code Orange – "Terminal." I have done many settings of poetry including "How to Build an Owl" by Sacramento poet Kathleen Lynch, "Tiger Face" by Pulitzer Prize winning poet Stephen Dunn, "Because We Sang" from "The Elegy of the Forest of Sainte-Croix, #32" by Eugene Guillevic, (translation by Denise Levertov) "If We Take" by Charles Bukowski, "Oceans" by Juan Ramon Jimenez, and "Nightingale" by H.D. I feel that my best composing is driven by the images that come to mind from words… animated and colored by years spent at the easel.

Robin has two dogs

Hoagy

Sylvie

Both of Robin's grandmothers lived to be 94
Sarah Hett

Julia Eschner